CNP CYPRIALIFE, was incorporated in 1995, with a view to providing innovative life insurance, private investment and savings plans through excellence in customer service.
With effect from 1st of January 2009, the French CNP Assurances have entered into a strategic partnership that will give CNP CYPRIALIFE the opportunity to further enhance its products and services and maintain its leading position in the Cyprus Life Insurance Market.
CNP CYPRIALIFE provides its customers with a comprehensive portfolio of products, accommoding their Life, Accident and Health Insurance needs.
In return to the trust its customers have placed in the Company, CNP CYPRIALIFE excels in offering an upgraded standard of service and competitive returns, achieved through experienced and enthusiastic staff and highly competent and professional network of insurance agents.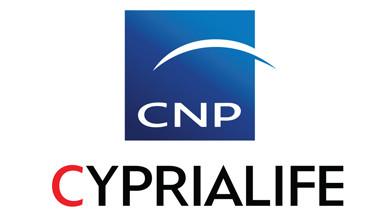 Address & Contacts
Street Address
Akropoleos Avenue 17 , Strovolos , Nicosia 2006 , Cyprus
P.O. Box: 20819
P.O. Box Postal Code: 1307
Contact
Working Hours
now
Normal Opening Hours
Mon:

09:00-13:00

15:00-18:00

Tue:

09:00-13:00

15:00-18:00

Wed:

09:00-13:00

Thu:

09:00-13:00

15:00-18:00

Fri:

09:00-13:00

15:00-18:00

Sat:

Closed

Sun:

Closed
Address & Contacts
Street Address
Demetrios Karatasos Street 15 , Anastasio Tower , Floor: 2&3 , Strovolos , Nicosia 2024 , Cyprus
Contact
+357 22 363 801
+357 22 363 873
Working Hours
now
Normal Opening Hours
Mon:

09:00-13:00

15:00-18:00

Tue:

09:00-13:00

15:00-18:00

Wed:

09:00-13:00

Thu:

09:00-13:00

15:00-18:00

Fri:

09:00-13:00

15:00-18:00

Sat:

Closed

Sun:

Closed
Address & Contacts
Street Address
Agiou Athanasiou Avenue 66 , Toumazis Building No.2 , Floor: 1 , Ayios Athanasios , Limassol 4102 , Cyprus
Contact
+357 25 854 905
+357 25 854 845
Working Hours
now
Normal Opening Hours
Mon:

09:00-13:00

15:00-18:00

Tue:

09:00-13:00

15:00-18:00

Wed:

09:00-13:00

Thu:

09:00-13:00

15:00-18:00

Fri:

09:00-13:00

15:00-18:00

Sat:

Closed

Sun:

Closed
Address & Contacts
Street Address
Arch. Makarios III 224 , Achilleos Building , Floor: 1, Flat/Office: 11 , Limassol 3030 , Cyprus
Contact
+357 25 815 435
+357 25 340 847
Working Hours
now
Normal Opening Hours
Mon:

09:00-13:00

15:00-18:00

Tue:

09:00-13:00

15:00-18:00

Wed:

09:00-13:00

Thu:

09:00-13:00

15:00-18:00

Fri:

09:00-13:00

15:00-18:00

Sat:

Closed

Sun:

Closed
Address & Contacts
Street Address
Artemidos Avenue 3 , Artemidos Building , Floor: 2 , Larnaca 6020 , Cyprus
Contact
+357 24 814 263
+357 24 814 280
Working Hours
now
Normal Opening Hours
Mon:

09:00-13:00

15:00-18:00

Tue:

09:00-13:00

15:00-18:00

Wed:

09:00-13:00

Thu:

09:00-13:00

15:00-18:00

Fri:

09:00-13:00

15:00-18:00

Sat:

Closed

Sun:

Closed
Address & Contacts
Street Address
Athinon Av. & Rodou Street 9 , Paphos 8028 , Cyprus
Contact
+357 26 816 099
+357 26 816 064
Working Hours
now
Normal Opening Hours
Mon:

09:00-13:00

15:00-18:00

Tue:

09:00-13:00

15:00-18:00

Wed:

09:00-13:00

Thu:

09:00-13:00

15:00-18:00

Fri:

09:00-13:00

15:00-18:00

Sat:

Closed

Sun:

Closed
Address & Contacts
Street Address
Griva Digeni 149 , Paralimni , Famagusta 5281 , Cyprus
Contact
+357 23 813 101
+357 23 813 127
Working Hours
now
Normal Opening Hours
Mon:

09:00-13:00

15:00-18:00

Tue:

09:00-13:00

15:00-18:00

Wed:

09:00-13:00

Thu:

09:00-13:00

15:00-18:00

Fri:

09:00-13:00

15:00-18:00

Sat:

Closed

Sun:

Closed